2 Year Old Birthday Gift Ideas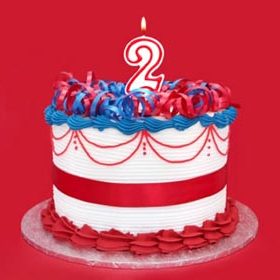 2nd Birthday Gift Ideas | Gifts to give a Two Year Old
A child's second birthday can be a lot of fun to celebrate and also provides you with the opportunity to spoil them.  At 2 years, the child will be more aware of their surroundings, they have a spirit for adventure and their curiosity is at an all-time high.
When choosing a gift for a two year old take into account they are at a very curious stage and like toys or activities that really engage their minds.
Pretend cash register
Kids have funny minds and they would have seen a cash register during their visits to the supermarkets or the convenience stores.  It makes for a nice game with their fellow toddlers and is certain to engage their minds.  The fact that it has a lot of movement and noises is bound to intrigue a two year old.
Tricycle
Another great present for a two year old is a tricycle. This is a toy that will allow them to move around in an interesting way.  The fact that they are able to move around by their own effort will make this a very interesting toy for the two year old kids especially for a boy.  It also provides them with the necessary training that they need when they finally decide to take on the bicycle.
Kitchen Set
A two year old girl will find a toy kitchen set a lot of fun.  You can buy a complete set that is made up of all the kitchenware in its plastic form to allow them to enjoy doing role plays with their friends and playmates.  Many of them will imitate the adults around them.
Toolkit
The boys will definitely want to start getting acquainted with tools at an early age.  This is a nice time to buy them a cool toolkit that is complete with the tool sounds.  The drill sounds like a drill and the hammer produces a sound any time a toy nail is hit.
Puzzles
Another good toy for a two year old is a puzzle block that consists of fitting pieces or shapes together.  Young children love puzzles of animals, different objects and people.
Party Theme Ideas
Planning for a unique and fun celebration for your child's second birthday is lots of fun.( Unlike school-aged children who are pickier in selecting their party theme!) As long as the party is amusing and the flow is good, your child will enjoy it.  If you'd like to hold a party with a blast, there are a variety of 2nd birthday party themes and food suggestions that guarantee everyone will enjoy themselves and the birthday child will have a great time.
To start off, think of the developmental milestone of your child.  At age eighteen to twenty-four months, your child will be able to mingle with other children and move about anywhere. Instead of keeping the toys for himself, your child will be able to show them to his playmates and play with them together.  In this case, think of a place where the breakable things are out of reach from children and an area where it's wide and grassy, like your lawn.  You may want to add a mini playground for your party by renting an inflatable bounce house and slides as they are colorful and safe for children to play.
After deciding the place, it's time to think of a theme for your child.  2nd  birthday party themes are more on colors.  Two-year olds are not really picky when it comes to choosing a theme, however we do know that many children like jungle themes.  You can also base the theme according to your child's gender.  If it's a girl, you can have an all pink party theme with pink and white balloons. If it's a boy however, you can plan for an action heroes' theme, sports or cars theme.
Other popular 2nd birthday party themes are cartoon show- inspired such as Winnie the Pooh, Sesame Street, Blues Clues, the Avengers, Barbie, Pink poodle in Paris and Disney movies theme.