Is Martin Luther King, Jr Day a federal holiday?
Martin Luther King Jr. Day is a federal holiday that falls on the third Monday of every January.
Martin Luther King Jr. Day 2022 in United States of America is on Monday 17th January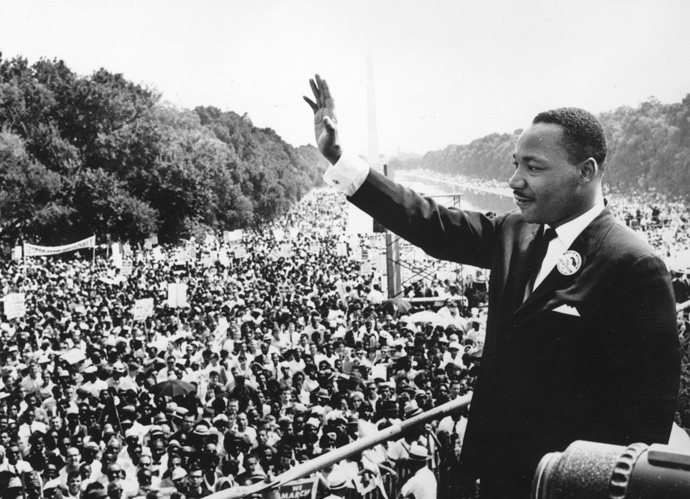 In 1968, Dr. Martin Luther King, Jr. was assassinated while he was leading a workers' strike in Memphis, Tennessee in the USA. Black people and white people who had worked so hard for peace and civil rights were extremely shocked and angry.
The world grieved the loss of this man of peace who had tried to bring all of mankind together in the preceding years. On January 20, 1986, in cities and towns across America people celebrated the first official Martin Luther King Day, the only US federal holiday commemorating an African-American.
All through the 1980's, controversy surrounded the idea of the US celebrating a Martin Luther King Day. Many citizens and congressmen had petitioned the President of the day to make January 15, Dr. Martin Luther King, Jr.'s birthday, a US federal holiday. Other people wanted to make the holiday on the day he died, while some people did not want to have any holiday at all.
As a result, January 15 had been observed as a public holiday for many years in 27 states of the US.
In 1986 President Ronald Reagan declared the third Monday in January a US federal holiday commemorating Dr. Martin Luther King's birthday.
Martin Luther King, Jr. Day –
A Day to Celebrate Peace and Human Rights
As a federal holiday in the United States, Martin Luther King, Jr. Day is an official day of remembrance for one of the United States' foremost leaders of civil rights, human rights, and peace. The holiday is held on the third Monday of January since this is around the time of Martin Luther King's birthday. Despite the fact that this special day had some difficulty becoming fully recognized, it is now a notable day used to celebrate peace and human rights in the US and some other countries around the world.
The Man – Martin Luther King Jr.
Martin Luther King was active in the civil rights movement of the 1960's, especially in the South. Born in Georgia, Martin Luther King became a Baptist minister. In the 1950's, he led several non-violent acts of defiance for the current state of civil rights and segregation in the United States.
Martin Luther King Jr. "I Have a Dream" speech.
In 1963 he led the March on Washington, where he gave his very famous "I Have a Dream" speech. Five years later, King was assassinated in Memphis, Tennessee. Despite his untimely death, King's legacy remains to this day.
Observations of the Holiday
The holiday is officially observed in every state in the USA, as of the year 2000. The holiday is also observed in some countries such as Japan, where it is used as a day to commemorate all who have fought for human rights and non-violent protest.
Initially, there were some objections to the holiday, in Arizona, New Hampshire, North Carolina, and South Carolina. Despite the fact that King passed away in 1968, the day to commemorate him was not passed into law until 1983 by President Ronald Reagan. At this point, however, only a limited number of states adopted the holiday, and it wasn't until the year 2000 that the entire country officially observed Martin Luther King, Jr. Day.
Activities of the Day
There are a number of memorials honoring Martin Luther King, and these are typically the center of activities surrounding this special day. Another place which will have special celebrations is King's alma mater, Morehouse University in Atlanta, Georgia. These events usually are sponsored by living members of the King family as well as other notable civil and human rights leaders.
The Martin Luther King Day of Service
There are several organizations that have been established specifically for the purposes of furthering King's doctrine. In his later years, the late Martin Luther King, Jr. pushed for greater assistance for those in need, including those in poverty stricken areas. In order to continue the ideas which King had, the MLK Day of Service has been started.
There are specific websites dedicated to furthering these activities, such as mlkday.gov which provides a portal for those wishing to sign up to assist in needy areas. By pushing for sustainable citizen action, this website and others like it have been able to create a legacy for Martin Luther King, Jr. is areas which he would be happy to have seen things accomplished.
For more information about how to find a place to help support MLK Day services, please contact your local government office.
Upcoming Martin Luther King, Jr.'s Birthday's (observed)
| | |
| --- | --- |
| 2021 | Monday, January 18 |
| 2022 | Monday, January 17 |