50 Year Old Birthday Gift Ideas
There is no doubt that reaching 50 years of life is a major milestone for any individual and what better way to help them celebrate than to give them a great gift.
Some gift ideas include giving them a a ticket to local Attractions and Theme Parks, a Sporting day out, a River cruise, a Wine tasting experience or a Cooking lesson. Flowers, Chocolates and Candies, Helium Balloons and Hampers always make great gifts.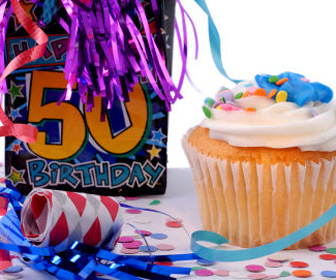 50th Birthday Gift Ideas
Birthdays are always special. But if a friend or loved one is about to celebrate their 50th birthday, then that merits even more special attention. To help you find an appropriate present, we have provided some great 50th birthday gift ideas below.
Jewelry
Jewelry will always be among the safest and most common 50th birthday gift ideas.  Whether the celebrant is male or female, pieces of jewelry will be a great choice. There are many different types of jewelry to choose from.  You can give the celebrant a pair of earrings, a ring or even a necklace. You can also go for bracelets. The list goes on.
Plus, there are different materials that jewelry is made with.  You can select jewelry made from gold, silver or diamond. In fact, some people play with the concept and gift jewelry made of gold to signify the golden years of 50.
The key with jewelry is to choose an item that matches the personality and preferences of the birthday celebrant.
Perfume, colognes and other scents
There are a wide variety of perfumes, colognes and other scents that you can choose as a gift for someone celebrating their 50th birthday. If you have a big budget, then you can select one of the designer perfumes and scents. If you don't want to spend quite as much money, there are plenty of less expensive products and brands that will still make a great present.
Music Recordings from their Birth Year
If the birthday celebrant is a lover of music, then why not select a CD as a gift.  It may even be a collection of songs from the year they were born or better still songs from their teenage years, which they are sure to remember.  Make sure that you include his or her favorite songs and the hits from his or her favorite band if you can.
This will bring back memories of the celebrant's youth. The fact is, people who reach the age of 50 tend to be nostalgic and they like looking back to the wonderful memories of their childhood and youth.
On the other hand, you can also try collecting greetings and messages for the birthday celebrant and save it in a CD.  Choose the people who matter the most to the celebrant—perhaps his or her immediate family members, mentors, sources of inspiration and other people who became a great part of the celebrant's life.  You can even include the key occasions in the life of the celebrant aside from the birthday greetings and make a short audio visual presentation.
The Best 50th birthday party ideas
A person who has reached the age of 50, is deserving to have a great birthday celebration that will remind him or her of how beautiful life is year after year.
If you are planning for your mom, dad's or friend's 50th birthday celebration, here are some of the most creative and impressing ideas when it comes to the theme, food, and decoration of the party.
50th Party Themes:
A person who is celebrating his or her 50th birthday is more likely to enjoy themes that are not too noisy, but packed with family and close friends. The music should entice people to get up and dance, especially in the second half of the night and may include songs from their teenage and young adult years.
Anyway, you can choose a Mardi Gras theme where people can come in blue and green outfits with matching beaded jewelry.
Another theme that suits a 50th birthday party can also be a luau, which is said to be one of the most popular themes for people who are mature and serious, but at the same time, young at heart.
Last but not the least is the Casino theme party. With this type of party, the celebrant as well as the guests can enjoy the night playing poker and other casino card games.
If you decide to have a casino theme party for a 50 year old, you can decorate the place with tables and chairs covered with red or green table clothes, decks of cards, lights and perhaps a band playing cool music to the guests, just like what you see in Vegas.  You can also check out rental companies for the different games you can see from casinos like the roulette
Food
The food you will be serving on the day will depend on the time the party starts.
If party is starting between 7-8pm in the evening, then you may want to serve dinner to your guests, as well as wine, and perhaps cocktails for them to indulge in, while having fun all throughout the party.  Moreover, you should also consider the theme of your party when choosing your entree. For example, if you are to choose a luau party, make sure that your food complements your theme, by considering tropical fruits, seafood, and a variety of scrumptious finger foods.
If the party starts at 8:00pm or later, consider finger food that is brought around throughout the night.