100 Year Old Birthday Gift Ideas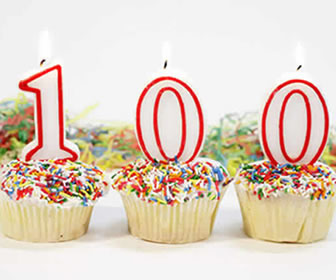 Party Themes and Food Suggestions for 100th Birthday Party
Celebrating a person's 100th birthday is a very rare occasion as many people do not reach this age. Living for a century is a milestone in a person's life and this should be honored and celebrated in a grand manner.  You could contact the local newspaper and see if they would like to do a story on the centenarian for the whole community to share. Alternatively you could place an advertisement in the local newspaper with a big 100th Birthday message.
100th birthday party themes and food suggestions should be planned well in advance so that the party goes smoothly.  The party activities should be based to focus on the life of the birthday person.
100th Birthday Party Themes
Decorations and theme colors can be based on the centenarian's favorite colors.  If the person loves roses, decorate with 100 roses. If the person is fond of a TV show, music or sports, then decorate with pictures and items that will complement the theme.
Slide Show
Pictures from different events from the birthday person's life can be put together as a slide show. This slide show should be set up to run automatically and display pictures on a screen, during the entire length of the party.
Memory Book
Each guest can write a short story or memory about the funniest or the most special memory they have of the centenarian. This will be more valuable than any trinket as a memory book is a wonderful keepsake that can be passed down through generations.
The guests can be asked to bring down some photos they have of the birthday person. These photos can be put together in a scrapbook along with information about these photos.
100th Birthday Recipe Book
If the centenarian was famous for cooking, a 100th birthday recipe book is the best way to share family recipes.  Each guest can bring in typed sheets ( or a computer skilled relative or friend could put together a PDF or eBook that can be shared by every tone) of recipes given to them by the birthday person and this recipe book can be kept as a family heirloom and keepsake for the birthday person.
Food Suggestions for 100th Birthday Party
When you are putting together a menu, consider the dietary needs of the birthday person and the vast age range of guests. A buffet or pot luck can be ideal as they offer a variety of choices that will satisfy guests of all age group.
Birthday Cakes
A 100th birthday should be celebrated grandly with something more special than a simple birthday cake.  As this 100th birthday party is sure to bring out a lot of guests. This is a rare occasion and it needs a very special cake. There are a variety of birthday cakes to choose from, you can go in for a traditional white cake or a three tiered traditional cake with various types of icings and decorations.
Birthday Party Drinks
Stout beer-ice cream mini floats, cranberry-strawberry margarita punch, pineapple limeade, ginger tea coolers, raspberry-apricot sangria, strawberry-lemonade slush, traditional mint julep and margaritas are some of the party drinks that will make the food memorable.
Birthday Party Dinner
Grilled flank steaks with rosemary-balsamic glaze, grilled mint-wine lamb chops, chicken with peppers and artichokes, shrimp, sweet corn and new potato boil, spicy chili bean burgers, thyme roasted chicken with vegetables, Asian salmon and pork tenderloin with herb-dijon crust will make a great birthday party food.
Birthday Party Desserts
Cream puffs, chocolate-dipped strawberries, cookies and cream whoopee pies, mini chocolate cheese cakes, caramel-apple pie, honey-almond cranberry crostatas and raspberry-filled chocolate cupcakes will make a perfect dessert.
The time and length of 100th birthday party should be convenient for the centenarian as they may get tired easily.  100th birthday party themes and food suggestions should be made to suit the person of honor.
100 Birthday Gift Ideas
Not many people are usually blessed enough to get to be 100 years old.  If you have a loved one who has made it to 100 years, you need to show them what a great achievement it is.  There is no better way to do that than to get them the most memorable birthday gift.  The key to getting a good gift lies in making sure it is something extraordinary and also making sure that it is practical for the person.  Here are some of the best 100 birthday gift ideas.
100th Birthday Gift Ideas for Women
Here are some ideas that will be wonderful for women:
Jewelry with their birthstone
There is nothing that will get her as sentimental as a piece of jewelry with her birthstone.  If she has grandchildren, you also get the birthstones of the young ones on the gift.  This will mean a lot to her as it will show her how truly extraordinary they are.
Designer Shawl
There is nothing that will be more practical as a gift to your 100 year old loved one than a good designer shawl.  This is because it will be both classy and practical. When the weather is cooler, she can use the shawl to keep herself warm.  You can even make the shawl personalised by having her initials embroidered on it.
Time capsule
If you want to show her how extraordinary her achievements have been, there is no better way than making a time capsule.  This will contain all the important events in her life, and you can be sure that a century is bound to be full of these. You can document everything from the moment they were born, to the wedding, birth dates of the children and so on.
100th Birthday Gift Ideas for Men
Here are some ideas that will have him grinning ear to ear.
Accessories package
There are people that think that getting a watch is an okay idea. Well, not bad, but what about making it better by getting a package full of these accessories.
Among the accessories you can buy and have packaged are the watch, a scarf, a hat, cashmere sweaters and cufflinks.  These can be wrapped together into one package.  You can even have a custom message on them to put a smile on their face.
Personalized drinking mug
A personalized mug will be treasured forever.  Once you personalize it, the gift becomes extraordinary.  Among the things you can do is to have it custom made with their name on it.  You can also try to have it autographed or given a signature by their favorite band when they were young.  When you make the mug have a message, they will really appreciate it.