These nests are quick and easy to make for a last minute treat for the kids. You can find a great variety of eggs to put in the nests – chocolate speckled eggs, filled chocolate eggs or we have used some brightly colored foil wrapped chocolate eggs.
Ingredients
1/3 cup sugar
1 tablespoon honey
3 tablespoons butter or margarine
4 cups corn flakes
Easter Eggs
Method
1) Place 12 muffin size paper cases in a muffin tray
2) Melt butter, sugar and honey together in a saucepan. Remove from heat when it gets frothy.
3) Pour mix into a bowl with the corn flakes and stir until combined.
4) Place large spoonfuls into paper cases pushing the mixture with the back of the spoon to the edges to form a hollow. You may need to slightly crush the cornflakes with your fingers by lightly pressing in the middle to make enough room to place the Easter eggs.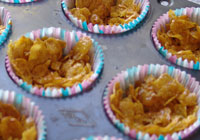 5) Bake in a slow oven for 10-15 minutes.
6) Cool
7) Arrange a few eggs in each nest.