Sunday, June 17, 2018
Father's Day 2018
---
---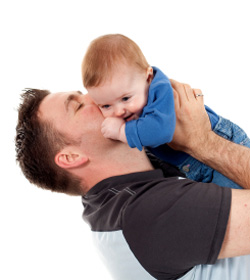 Father's Day
Shortly after the establishment of Mother's Day in the United States, Father's Day was also conceived as a day to honor the hard work of fathers and men in general.
The roots of the holiday are a bit different than those of Mother's Day, but the two days are highly connected as well.
From these roots, the holiday in the United States grew to become a large celebration of fathers in general, with all modern businesses and offices observing it in one way or another.
Whether it is a small gesture or a big party, doing something to honor dad is an important element of the holiday calendar in the United States.
What to do on Father's Day
Normal activities for Father's Day include special dinners, sporting events, and gift giving. In the morning, all fathers love it if someone prepares a big breakfast. This often consists of bacon, eggs, hash browns, coffee, orange juice, and possibly some cereal, fruit, muffins, biscuits, or grits. Sausage may be substituted for bacon. Next, spending some time outside would be a good idea. Because Father's Day is the third Sunday in June, the weather is normally great for some sort of outdoor activity. For lunch, a casual dining area will be fine. Hot dogs, hamburgers or a barbecue are great ideas for lunch with dad. In the afternoon, it would be good to take dad to some sort of festival or event. For dinner, take dad out for a nice meal at his favorite restaurant. In the evening, watch a baseball game with dad. Don't keep him out too late though. The next day is a work day, and it's back to work for dad.
In the United States, Father's Day has become a day of equal importance as Mother's Day, despite the lack of support from the florist industry and less support from the greeting card industry. However, the availability of cool Father's Day gifts is unlimited. ( A book on Dads favorite topic is a great gift idea!) Going to the store to look for the perfect Father's Day gift can be a lot of fun. Just remember what dad would like to use around the house or in his car.
There are many other activities surrounding the celebration of Father's Day in the US. Fathers are a vital part of the development of boys, and the presence of a father figure is honored on this day. Some of the activities which are usually done on this day focus on 'manly' things such as cars, electronics, and sports.
Cars. One of the skills that many fathers have is the ability to repair a car or at least understand how a car operates. For Father's Day this year, it may be a good idea to spend time with dad around a car that needs repairing. There are usually a large number of car shows around the country which attract a moderate to large number of fathers on Father's Day.
Sporting Events. It is also a great for family's to take their fathers out to see a sporting event. Due to the season being summer, most fathers will go see a baseball game. This is a good chance to relax and enjoy a game with dad.
Father's Day in the United States – is a Time to Honor Every Father in the Country
Father's Day Promotions and Specials
There are a large number of promotions offered during this time. There are discounts at retail locations, discounts at restaurants, and discounts in other places as well. Celebrating Father's Day can be a fun affair if the right promotions are found.
There are several websites which carry special promotions, such as the main sites for the major retailers as well as discount sites such as GroupOn and others. These sites have heavy discounts on certain items if a minimum number of people sign up to purchase the discount. One of the possible discounts offered for Father's Day would be very cheap admission to an auto show or baseball game.
Electronics and Gadgets. With the availability and choice of electronics very wide now, this has become the number one most popular gift item for fathers on Father's Day. Some of the most popular items include Altimeters , Calorie Counters,Clinometers , Compasses, Cycling Computers , GPS Units , Odometers, Speedometers ,Weather Monitors, Fitness Trackers, Pedometers, Heart Rate Monitors, Stopwatches.  Some of the best places to pick these up are Best Buy and Circuit City, both electronics mega stores. They will always run special promotions for Father's Day, so it is a good idea to check in the local newspapers for information.
History of Father's Day
Father's Day has an interesting history, springing forth from the same general area as Mother's Day, although the modern day Father's Day didn't start from here. Mother's Day began in West Virginia in 1908, and one of the first recorded Father's Days occurred just fifteen miles away in West Virginia. The day started from a tragic event which claimed the lives of over 250 fathers in a local city of West Virginia. One of the widows, inspired by Anna Jarvis' ideas to honor mothers, sponsored the first Father's Day. However, this is not the Father's Day we celebrate nowadays.
The modern day Father's Day is an extension of a Father's Day celebration started in Washington state. From here, substantial support was given to the day, and it was eventually made a public holiday in all states. It wasn't until the 1970s that Father's Day was given this honorary status.
Despite the delay, Father's Day quickly caught up with Mother's Day in terms of support from commercial businesses, who quickly realized the potential of the day.
Spend some special time with your father. He is often the one who works hard to support a better future for you.