These chocolate nests are quick and easy to make for the kids. The nests can be made with dark, milk or white chocolate. Fill the nests with chocolate speckled eggs, filled chocolate eggs or we have used some brightly colored foil wrapped chocolate eggs.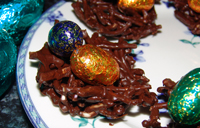 Ingredients
1 packet fried noodles
200g melted dark or milk chocolate
2 tablespoons of peanut butter
Easter Eggs for decoration
Method
1) Lightly grease a 12 muffin tray
2) Melt chocolate on a low heat in the microwave and stir in peanut butter.
3) Pour chocolate mix into a bowl with the fried noodles and stir until combined.
4) Place a spoonful on one side of the muffin tray and then another on the other side making a hollow in it as you go. You may need to get your fingers into it to get the nest shape.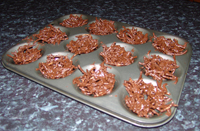 5) Place in the fridge until set.
6) Using a teaspoon pry them out of the muffin tray
7) Arrange a few eggs in each nest.