Thanksgiving Day 2021
Thanksgiving Day is on Thursday, November 25, in 2021






What is the meaning of Thanksgiving Day in the USA?

Thanksgiving is celebrated on the fourth Thursday in November each year. Thanksgiving involves family getting together from all over the country and world for a time of special communion and togetherness. It is positioned at the end of the harvest season and is an annual Federal holiday to express thanks for one's material and spiritual possessions. The period from Thanksgiving Day through to New Years Day is often called the holiday season in America.
Thanksgiving Day Traditions and Activities
In addition to this family time, there are numerous activities and traditions which go along to make this day one of the most eventful days of the entire year. Sharing photos of the past year is a way to see what each family member has been up to the past year or so. Photos of friends, boyfriends or girlfriends, places of travel, and pets are some of the most common subjects of photos shared with family during this holiday.
Watching television is a very normal thing for family members gathering for Thanksgiving to do, and there are annual televised events such as the parades in New York City or the football games all over the country.
Playing a sport like football or basketball is another common activity of Thanksgiving. Since both the football and basketball seasons are well underway in the US, these are the most popular sports that are played during Thanksgiving. Some families even have annual football matches, pitting one half of a family against the other. For those who do not feel like getting dirty, a simple game of tossing the football back and forth is a great way for certain members of the family to bond and have conversation.
Going shopping on Black Friday is great for the ladies to pick up a bargain. The last Friday in November is known as Black Friday, and it is the largest shopping day in the entire year.
Thanksgiving Food – What to eat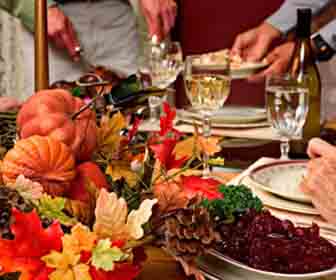 Most people celebrate Thanksgiving by gathering at home with family or friends for a holiday feast.
While the most famous Thanksgiving food item is turkey, there are several other food items which are always present at the dinner table when this holiday comes around:
Cranberry sauce: It is sweet and tangy in flavour.
Dinner rolls: these are the classic bread item for Thanksgiving.
Steamed vegetables: usually there is a range of vegetables available, such as carrots, peas, green beans, lima beans, and zucchini.
Corn on the cob. Often steamed as well, this dish dates back to the original Thanksgiving between the English settlers in Massachusetts and the Native Americans of the land.
Apple pie. Apple pie is often served with vanilla ice cream and whipped cream.
Pumpkin pie. it is traditional to use all the excess pumpkins to make pies. Also, the seeds which are extracted are often baked and seasoned, making for a nice snack food.
Baked potatoes. It is often served with butter, sour cream, chives, bacon bits, cheese, and salt and pepper.
Salad. A mixed salad of Vegetables – lettuce, cabbage, carrots, tomatoes, green peppers, and corn.
Coming Up | Thanksgiving Day is celebrated on…
2021 | Thursday, 25 November 2021
2022 | Thursday, 24 November 2022
2023 | Thursday, 23 November 2023
2024 | Thursday, 28 November 2024